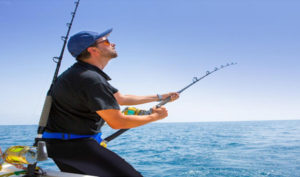 If you're going to Cabo San Lucas, the best sports fishing ground in the world, for the fishing season, then we are sure that you must be super excited about it. Excitement is good but to ensure that you have a great time catching plenty of fish, you need to prepare for it before you hit the sea. Don't worry, we have you covered! In today's fishing report, we'll share some great tips for beginners at sports fishing, so stick around.
Do Some Legwork
Before you set out, make sure that you are familiar with the basic fishing techniques and know how to use the fishing gear like how to add fishing baits to the hook, cast the line, and tie the knot.
Carry the Right Equipment
Make a check-list of the fishing equipment that you need to carry like fishing rods, reels, baits, and lures. Also, do some research about what fishing reel is best for beginners? This is important to know because there are different types of fishing reels available in the market, and each reel is designed differently. Investing in a baitcasting reel or spinning reel is not the best choice for beginners as these reels are difficult to use and designed for pros. The best way to start your sports fishing journey is to invest in a Spincast reel. This reel operates with a push of a button, making it super easy to use for novice anglers.
Know What to Expect in the Sea and Then Select Your Baits Wisely
When heading to Cabo San Lucas for sports fishing, it is important that you know what fish you'll be able find in the sea. For example, if you're hitting the waters in March, you're mostly like to find Skip Jacks, Big Yellow Fin Tuna, Spanish mackerel and Cabrilla. In May, the inshore sport fishing kicks off. Anglers can find Roosterfish and Wahoo in high concentration near the shore. So, it's extremely important to know what type of fish is in abundance in the season when you're thinking of visiting Cabo San Lucas.
Also, this information helps in bait shopping. That's right; some fish are selective feeders and won't fall for your trap if you use the wrong bait. For example, live baits such as sardines and mullet are best when fishing for Roosterfish, while hard body and rubber skirted trolling lures are best for teasing and attracting Marlin, Dorado and Tuna.