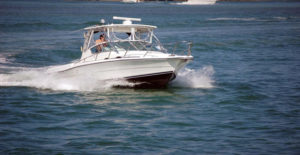 Envied worldwide for world-class sports fishing and reckoned as the ultimate place to cast bait, Cabo San Lucas provides both beginner & pro anglers with the perfect fishing experience that truly no other fishing destination can rival!
However, to experience the thrill and excitement that deep sea Cabo San Lucas sport fishing offers to anglers, it's important that you know about the best fishing grounds in and around the area. And this is what we'll share with you in this fishing report, so that when you go to Cabo San Lucas, you don't miss the opportunity to catch the Striped Marlin, the best game fish in the sea, or miss your shot at finding big schools of Yellow Fin Tuna.
Hot Spots for Sports Fishing in Cabo San Lucas
Finger Bank
Known as the quintessential billfish fishery, the Finger Bank is the perfect fishing ground for anglers looking for a sea adventure. Situated approximately 50 miles upward from the marina of Cabo San Lucas, this is the place where you can find and bait for predatory fish. During winters and early spring, the place is surrounded by hoards of Stripped Marlin.
Tinaje Trough
Located on the Pacific Side, Tinaje Trough is one of the best fishing grounds in Cabo San Lucas. It is a deep gorge, forming a pathway of currents, underwater. It is nestled between The Golden Gate Bank and San Jaime Bank where the warm currents swiftly carry large amounts of Yellow Fin Tuna, Blue Marlin and Skipjack Tuna. Blue Marlin is the most favorite and exciting catch in the sea for anglers here, typically because of its aerial acrobatics and unbelievable agility. If you choose this ground for fishing, make sure that you come equipped and are ready for a chase to catch your prey.
Gordo Banks
This is one of the most popular fishing spots on the eastern coast of Cabo San Lucas, and in the Sea of Cortez. It is located 5 miles away from the coastline of Baja. This fishing spot is divided into the Outer and Inner Gordo Banks. The Outer division is where all the sea action happens. From April to November, the Outer Gordo Banks is brimming with Yellowtail, Wahoo, Grouper, and Pargo and profuse with Sailfish, Tuna and Mahi Mahi. And in case you visit this place off-season, even then you can enjoy great fishing here.
1150 Bank
If you're dead-set that you want to come back home with an epic Cabo San Lucas sports fishing story, then 1150 Bank is a must visit fishing ground. Lying approximately 20 to 25 miles off shore, 1150 Bank sports a fantastic combination of marine features of the Pacific and the Sea of Cortez. This is a much celebrated location for catching Marlin & Tuna fish, and what adds to the excitement is that the fishing spot is frequented by a variety of Shark species, particularly the shortfin Mako Shark, also known as the Blue Pointer.
So, what are you waiting for? Gear up for some memorable deep sea sports fishing action in Cabo San Lucas! Make sure to visit these hot spots to experience the real thrill of sports fishing.