Deep Sea Fish to Explore in Los Cabos
If you're interested in
sport fishing in Cabo San Lucas
, you're going to want to know what kind of game fish you can get!
Los Cabos region is known for its spectacular fishing opportunities, and a getaway on those sparkling waters is bound to be any fishing enthusiast's idea of a real good time. If you're interested in angling in Los Cabos, then read on to find out a few of the common deep sea fish you're likely to encounter.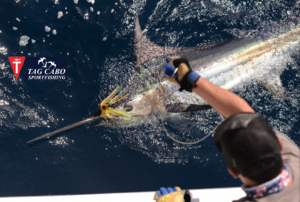 Blue Marlin
The largest of all Marlin fish, the Blue Marlin is quite the aggressive species. These fish can go up to more than 1000 pounds. Of course, for fly-fishing, you would ideally go for somewhere between 50 to 200 pound Blue Marlins.
Sail Fish
Easily one of the speediest fish in the ocean, these sail fish can jump out of the water at speeds of more than 68 mph.
They are usually found in spots far from shore but near the surface of the water. Why are they called sail fish? That would be due to their dorsal fin, which stretches out along the length of their bodies. This fin is also considerably higher as compared to the thickness of their bodies.
Striped Marlin
Cabo San Lucas is considered to be the epicenter when it comes to finding Striped Marlin in the waters. They tend to be around all year in Los Cabos, and can put on quite the display when they eject themselves out of the water and into the air. To many angling enthusiasts, this is the ideal billfish!
Swordfish
The swordfish are easily identifiable due to their sword-like, long and flat bill. They are a predatory fish, and can prove to be quite the enjoyable challenge for avid anglers. With considerable speed and admirable agility, the swordfish is a pretty mean catch, and uses its "sword" to slash its victims. Length-wise, they can come up to about 9.8 feet, and are usually found near the surface of the water.
If you're planning a trip out on the waters in Cabo San Lucas, then Tag Cabo Sportfishing can be of service! We provide you the chance to charter a luxury yacht at incredibly affordable pricing, and get the most out of your experience fishing in the Los Cabos area. Based in the U.S. or Canada? Contact us at 01 52 624 168 9544 to book a Cabo sportfishing charter!
Watch our videos on you tube to have a better idea on how we Tag Cabo Sportfishing fish out here, Also follow our Tag Cabo Sportfishing facebook fan page to watch our live broadcast.