Keep Yourself Healthy on Vacation: Make Time to Fish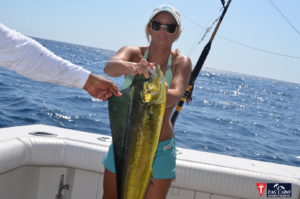 Whether you are visiting Cabo San Lucas for a long weekend or you plan to stay for weeks, you'll certainly have no shortage of things to do while you are here. But, because even the best vacations can wear you out, it is important to take care of yourself while trying to get a little rest and relaxation. One of the best ways to do so is by working in a little fishing, between going out to eat and lounging on the beach.
Fishing provides a wealth of health benefits, which will help keep you feeling good during your vacation, as well as after you return home. Some of the most notable health benefits fishing provides include the following:
1. Fishing helps to reduce your blood pressure.
An unfortunately high number of people in the modern world are suffering from high blood pressure. This is a serious medical condition, which can lead to heart attacks, strokes and organ damage. Treatment usually requires a combination of medications and lifestyle changes, such as spending more time outdoors – an activity which has been shown to help reduce blood pressure.
2. Fishing will help improve your mood and outlook.
Fishing gives you an excuse to get outside and soak up some of the sun's rays. But these rays aren't only good for your tan, they can actually cause your brain to produce more serotonin too. This will help elevate your mood while you are fishing and for several hours afterward. Just be sure to use an appropriate sunblock when hanging out during the middle of the day.
3. Fishing can serve as a great low-impact exercise.
Few adults in the modern world get enough exercise, which has led to growing rates of obesity, diabetes and other health problems. And, while most forms of exercise are pretty boring, fishing is a great way to pass the time, and you can burn a few calories while doing so. This is especially true if you are battling big fish while you are out on the water.
4. Fish is a nutritious (and delicious) protein source.
Most modern anglers embrace catch-and-release fishing, and this is a good default practice. However, there is no reason you can't take the occasional fish back to the dinner table, provided that it is legal to do so in your area. Fish is a lean, nutritious food, which represents an ideal protein for most diets. Additionally, some species contain a wealth of omega-3 fatty acids, which provide additional health benefits.
5. Fishing gives your lungs a break.
The increasing levels of air pollution in our cities and urban areas is causing a spike in the number of respiratory illnesses that are diagnosed. But, by spending the day on a lake or out in the ocean, you can give your lungs a break, thereby giving them a chance to heal. This will have you breathing easier and feeling better.
By this point, you've probably realized that fishing is a much healthier activity than most people think. But these benefits represent only the tip of the iceberg – there are at least twice this many health benefits you can enjoy from spending a few days on the water. If you'd like to learn more about these additional benefits, check out Outdoor Empire's article on 11 health benefits of fishing. You'll not only learn a few more ways that fishing can help keep you healthy, you'll learn a few strategies for maximizing the value they provide.
Article Credit to… Jon Sutton
To go fishing in Cabo San Lucas contact Tag Cabo Sportfishing they have many options available with top of the line equipment and some of the best Captains in town.