REMINDER: Please note that these are just a few options within our 20+ fishing charter fleet. Feel free to fill out our CONTACT FORM for further information.
32ft Striper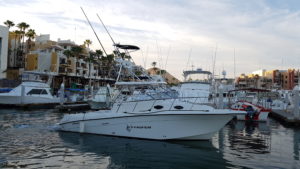 Don't waste your time and ride the waters in style!
Our 32 ft Striker takes the fishing charter experience to another level. The boat is perfect for a quick getaway into the calming waters and away from the stress of the regular routine.
Enjoy the day searching and catching game fish! Our Striper will be the ride you need. Light and speedy, it boasts of comfort and the highest charter experience! Watch the boat crash through the waves and make way through the waters and bask in the sun.
The 32 ft Ninja has plenty of space for 4 anglers and you can come aboard with your friends for an adventure. The best part is, you get more than just a ride by booking our charter—you will get snacks, water, beer, ice, fishing licenses, live bait and a round trip transportation!
So what are you waiting for? Book our 32 ft Ninja today and make your day memorable!
45 ft Cabo Flybridge
Comfort and Luxury at its Best!
Itching for a ride on the waves? Need to take a well-deserved break away from the shore? Round up your band of friends, hop on onto our 45 ft Cabo Flybridge and shake off the troubles!
Our Cabo will take you wherever you want, in style! Once you get on, there is nothing more that you would want than simply lounging around and having some fun. This luxury charter has the lot! She's rigged to cruise and/ or fish with lots of equipment, and can handle loads up to 10 anglers!
If you're tired of fishing, you can lounge inside the luxurious cabin, and pamper yourself with snacks and beer by your side. The inside of the cabin has all you need: soft, comfy cushions and a great ambience—perfect for relaxing. We guarantee that the gorgeous cruiser will treat you, and your loved ones, quite well.
Our 45 ft Cabo Flybridge will let you travel in style and grace and makes the perfect backdrop for selfies to boast around to your other friends on social media. What is more, the charges for this charter INCLUDE the round trip transportation, fishing licenses, beer and ice, water, snacks and live bait.
Reach Out to Us Today!
52ft Cabo Express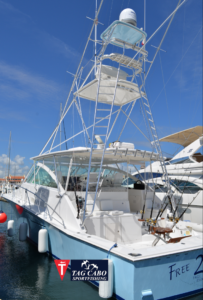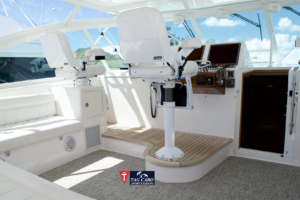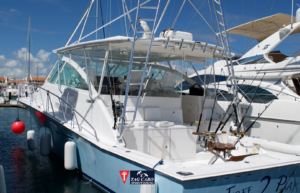 On this monster fishing yacht charter, we can do a cruising speed at 30 kts and top speed at 40 kts per hour and it just got a top of the line stabilizer install to make sure all of our clients have the best smooth ride ever. Not only that, it also have a top of the line sonar, gps and plenty of fishing equipment to enter any big fishing tournaments.
50ft Bertram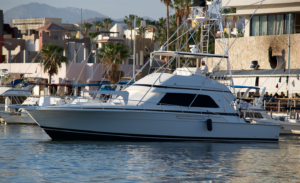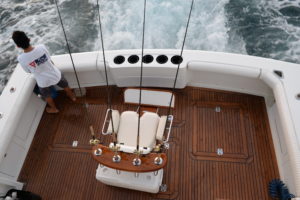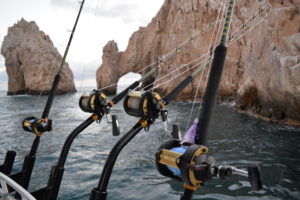 Talk about a monster fishing yacht ! Bertram yachts are made specifically for trolling out in the ocean as they don't really make a lot of foam behind the yacht which allows fish to see the teasers and fishing lures better than with other yachts that tend to create a lot of foam with there propellers.
Our 50ft Bertram may accommodate up to 12 Anglers with three state rooms, living room, kitchen and two bathrooms. It's much more than just a comfy fishing trip.
60ft Hatteras
Built for Comfort, Designed for Bliss
There is something about traveling on the waves in a luxury charter that drains away all the stress and helps you unwind amidst nature. Our 60 ft Hatteras is at your service for the purpose. She promises the ultimate vacation experience by offering you a list of services that will only add to your enjoyment.
Join our captains on a memorable cruise and enjoy a five-star service! Our Hatteras is sturdy and speeds away in the waters with agility and unmatched grace. She's spacious and can accommodate up to ten anglers on board. Don't assume that its size would pose any hindrance in cruising with speed. Equipped with the toughest and well-maintained engines, Hatteras would surprise you with a rapid and elegant journey on the waters.
When chartering the 60 ft Hatteras with Tag Cabo, let go of any and all worries about the trip. We will provide you with snacks to chomp on along the way, beer and ice to keep the fun rolling, fishing licenses for catching game and complete round trip transportation. We will also provide you ample water to drink and wash on the cruise.
Our 60 ft Hatteras awaits you! Book today!
70 foot Hatteras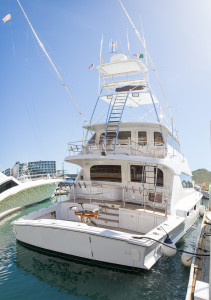 70 ft Hatteras
Safe, Comfortable and Luxurious—Spend Your Vacation in Style!
Our 70 ft Hatteras is the embodiment of comfort and luxury. Plan a family vacation over the weekend. Enjoy the fun and frolic over water and soak in the sun. Catch game fish and experience the express comfort of the impeccably-designed cabins. The Hatteras was designed with care, and we maintain it with care. The open-concept deckhouse and galley arrangement will completely wow your guests, and the panoramic windows, allowing a 360 degree view, will be the cherry on top.
Enjoy a VIP experience on board the 70 ft Hatteras with designer-inspired rooms and an array of amenities for your enjoyment. The charter is family friendly and can comfortably host 8 anglers over night and 12 guests for an 8-hour fishing trip.
Make the most of your vacation by booking with us! The charges include not only the round trip transportation, but mouth-watering breakfast and lunch prepared by our gourmet chef, and a national open bar just for you!
So what are you waiting for? Book the 70 ft Hatteras Today and Seal the Deal on a Vacation Well-Spent!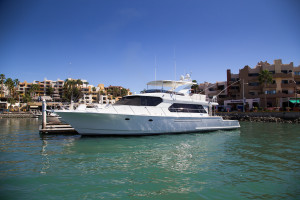 80 ft Sonship
Sail and Celebrate in Utmost Luxury!
Step on board our magnificent Sonship, discover all that she has to offer and you'll be sold on the spot. The huge yacht is continually maintained to stay in top shape, and the massive volume offers a bulk of opportunities for relaxation and entertainment.
At an impressive 80 ft, the Sonship belongs to the handful of yachts that can accommodate around 12 anglers without trouble. She can sail for hours at an end—she was built for the waters! Bring in your friends, or have a healthy bonding experience with your work mates on board the ship. Don't worry, we'll take care of your hunger pangs. Our excellent chef will prepare scrumptious and nutritious breakfast and lunch for you.
With a national open bar right there on the ship, you don't need to lug in beer from home. On board the Sonship, all you need to do is have fun!
Indulge in the amazing features of the ship and engage in fishing with your buddies. We're positive you'll have the time of your life!
Book the Sonship Today and Buckle Up for Non-Stop Fun!