Cabo fishing report June 16th 2017
Sportfishing has been really hot for the last 3 weeks. Within our Tag Cabo sportfishing fleet, we have been catching and releasing multiple stripped marlin on a daily basis. We also ran into a few good size roosterfish for about a week and a half, nice big wahoos and some small yellowfin tunas here and there.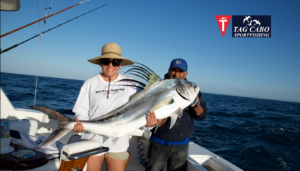 Cabo fishing reports.
A few pictures of yesterday's (May 26, 2017) fishing trip.
It's that time of the year again and water temperatures are rising, bringing along our biggest game fish.We caught a 384lb blue marlin on board 45ft Cabo with Captain Julian Liquidano Garcia, Captain, Eduardo liquidano, Captain Jobe Villavicencio, Owners Chuck Baker and Valerie Sutton-Jackson Marlin which was caught yesterday March 26, 2017.
Pictures taken by Arturo Chacon



Cabo Fishing
Report from April 10
th
to April 13
th
Undoubtedly, April is a great month for sports fishing in Cabo San Lucas. And this week was no exception. The weather was clear with periodic clouds which made game fishing even more fun, and less of a challenge as we didn't have to battle it out with the harsh climate.
The average temperature was approximately around 27°C with low humidity at 51 percent and no precipitation. Let us tell you here that generally in April, in Cabo San Lucas, there is virtually no rainfall. Though it was slightly windy, with winds blowing at 16 km per hour, it kept us cool during the daytime so we pretty much enjoyed the weather conditions as they were ideal for bending the rods and catching some great game fish bite.
This week, we headed off-shore with a convoy of 10 yacht charters and a large group of avid anglers waiting to indulge in Cabo San Lucas sea action. At this time of the month, off-shore fishing in Cabo produces a good Striped Marlin and Wahoo bite. And that's exactly what we found under the sea when we hit the shores.
What we loved about this week's sports fishing in Cabo San Lucas was the fact that we got tons of opportunities to catch big Wahoos. These are about 8 feet long and weigh about 100 pounds. That's massive!!
But wait, besides the size, as we mentioned previously, Wahoo fish are speedsters, and possibly one of the toughest pelagic predators to catch. They have the ability to streak through the waters upward of 60 mph and they fight similar to a wounded rhino. It's crazy but absolutely fun for pro and adventurous sports fishing anglers alike. Catching these big speedsters is no less than an achievement.
The clear weather played a pivotal role in our amazing Wahoo catch success rate. We could clearly see the waters and Wahoo cruising sub-surface. This helped us put baits in their target zones and rig them up to catch a great Wahoo bite for everyone to enjoy during dinner.
During this week, we also found a good Yellow Fin Tuna bite and occasionally came across Dorado. It was absolutely a joy to be at sea this week just like last week and we can't wait to hit the sea again next week. The anticipation of what will we find under the deep waters next week is making us super excited.
Cabo Fishing Report-How We Enjoyed Sports Fishing in Cabo San Lucas This Week.
Cabo Fishing Report-How We Enjoyed Sports Fishing in Cabo San Lucas This Week.
Do you want to experience the adrenaline rushing Cabo San Lucas sports fishing action that we've been raving about all this time, then now is definitely a good time! Though Billfish bite comes to a break in Cabo San Lucas during March, the conditions for catching other game fish bite like Big Yellow Fin Tuna and Skip Jacks are ideal. We say this because we were at the sea this week and wow, we had the best time fishing.
Generally, during this time of the year in Cabo San Lucas, temperature on average is 80° while humidity is 68 percent and rainfall, an average of 0.00 inches so the conditions at the sea are practically perfect for enjoying sports fishing. Nearly perfect but not perfect because anglers sometimes have to battle winds at this time, just like we did, and cold water also pours from the north but this doesn't take anything away from the fun and adventure that Cabo San Lucas has to offer.
During March, especially early this month, the inshore comprises of a very good big Yellow Fin Tuna bite. And we literally experienced it when we hit the shores this week. We went sports fishing with Captain Felipe Mayo Justo on his Panga.
As always, we went well-equipped with rigged baits, plastic lures and fishing rods much needed to troll with the waters to attract and catch the prey. At the first day of the week, we managed to hook plenty of game fish—4 Yellow Fin Tunas and 8 Skip Jacks to be precise but unfortunately, we could only catch one Tuna primarily because of the hungry sea lion that just couldn't stop munching on our Skip Jacks and Yellow Fin Tunas. That Sea Lion was sure hungry! But overall, it was a great day in the waters. However, later the same week, we did manage to hook and catch Yellow Fin Tunas and Skip Jacks in front of the arch—luckily enough the hungry Sea Lion was nowhere in sight, because if it were, then you would know what would have happened, right!
All You Need to Know About Catching Big Yellow Fin Tuna When You Go for Cabo San Lucas Sport Fishing
Catching a big game fish like a 300 pound Yellow Fin Tuna is every angler's dream. If you dream about it too and are heading to Cabo San Lucas for sports fishing, then let's just say you're only a catch away from making your dream into a reality. As mentioned in our previous fishing report, big Yellow Fin Tuna is found in abundance from June to December , so you'll have plenty of opportunities to hook and catch your target.
To catch your prey successfully, it is important that you know everything about them and are well prepared. And this is exactly what we'll teach you in today's report. So, continue reading to prepare yourself to bait, hook and catch your dream game fish—the big Yellow Fin Tuna.
Get Ready for the Ultimate Fishing Battle in Cabo San Lucas
The big Yellow Fin Tuna is a marine beauty and incredibly delicious to eat. We love to eat it fresh with wasabi and soy sauce on the yacht. It's absolutely yum. However, to catch this fish, you need to be well-prepared when you go to sea predominantly because they are speedy, love to get chased, and it's close to impossible to tackle the large ones.
Scale up Your Tackle Wisely
It's much easier to catch small Yellow Fin Tunas in the 10 to 15 lb range using a light tackle but to catch the big ones, you will need to scale up your tackle as you will require heavy gear and plenty of 100 lb braided line. And make sure to carry rods, hooks, gaffs, naps, swivels, guides, leaders, landing nets and reels.
For catching Yellow Fin, we'd suggest anglers to roll with:
Cedar or ranger type plugs
Tuna feathers
And plastic-skirted trolling lures
As Yellow Fin Tunas mostly feed near the sea surface, it is advisable to use top water techniques to bait and lure them in your trap. Since top water techniques are considered effective in low light conditions and this fish has very good eyesight, to increase your catch success rate, we'd advise you to use a fluorocarbon leader. This will help reduce visibility and also has abrasion resistance.
Also, whether you're fishing for Tuna with bait or lures, try combining it with chum. It is effective on all Tunas and the Yellow Fin Tuna is definitely no exception. Try chum with either live baits or cut baits into chunks. This will help you to keep Yellow Fin around your yacht, making it much easier for you to catch one.
Cabo San Lucas Sports Fishing – What to Expect in the Sea?
Love sports fishing? Looking for a place where you can experience the best in sports fishing and try your luck at catching some of the greatest game fish in the sea? If yes, then say hello to Cabo San Lucas.
Cabo San Lucas sports fishing is epic; and that's evident from the fact that the place is documented as "The Greatest Fish trap in the World". Here, you can cast a fly and catch a variety of game fish. If we have gotten you excited and wondering what the deep sea waters of Cabo San Lucas have in store for you, well then, read on to find out.
Roosterfish
Known as the 'Predators of the Surf', and unique to the Pacific, Roosterfish are found in high concentration in the waters of Cabo San Lucas. Roosterfish is the member of the Jack family and the greatest in-shore sports fish. This fish has the potential to grow to more than 100 pounds, so you need to be well-equipped and have a great deal of strength to pull it out from the sea.
Besides this, Roosterfish is also a selective feeder, so if you intend to catch this fish, you should be well-informed about what to use as bait.
Striped Marlin
Cabo San Lucas is home to these super charged game fish. This fish is unbelievably hard to catch, pretty much because of its aerial acrobatics and spectacular speed. And that's exactly why catching a Striped Marlin is regarded as the greatest angling achievement and a dream fish to catch for anglers. So, if you too want a shot at a Striped Marlin, then Cabo San Lucas is the place to go! To increase your chances of catching it, use troll teasers without hooks and conventional rods. Also, be prepared to fight hard because this fish will do the same.
A fascinating fact about Striped Marlin is that this fish has vibrant stripes on its body. The color of these stripes change when the fish is excited such as while eating.
Yellow Fin Tuna
In Cabo San Lucas, you can easily find schools of Yellow Fin Tuna if you go sports fishing in September. This fish is beautiful and speedy. Its body is colored metallic blue and yellow, featuring golden stripes on the sides. It weighs 280cm in length.
Dorado
Also known as Mahi-Mahi, Dorado is found in abundance in the waters around Cabo San Lucas. This fish is a marine beauty. It is beautifully colored and weighs around 90 pounds. Unlike other game fish, Dorado is short-lived and hungry quite often. As this fish is often hungry, it is easier to attract with bait and catch once it falls for your trap. But let's not forget, that just like the Striped Marlin, this fish also fights back hard, so watch out for that!
A male Dorado has a distinctively large and flat forehead and is much bigger in size as compared to the female Dorado. But they all taste delicious.
Sports fishing reports, Cabo San Lucas Sport Fishing reports
Cabo San Lucas Seasonal Sports Fishing Chart
Cabo San Lucas offers sea adventures all year round, so no matter what time of the year you choose to go for Cabo San Lucas sports fishing, you can be confident that you'll come back home with a smile.
Cabo San Lucas Seasonal Sports Fishing Chart
Cabo San Lucas invites both casual game fishing fanatics and avid anglers to experience the thrill of deep sea sports fishing, like never before. Home to the greatest offshore and inshore game fish, in Cabo San Lucas, you can catch a wide variety of fish species from Roosterfish to Striped Marlin and Yellow Fin Tuna.
Here's a quick overview of the Cabo San Lucas sports fishing calendar for you, so that you know exactly what lies beneath the deep blue sea when you set out for game fishing with friends and family. The good news is that Cabo San Lucas offers sea adventure all year round, so no matter what time of the year you choose to go for Cabo San Lucas sports fishing, you can be confident that you'll come back home with a smile and plenty of amazing catch stories.
Cabo San Lucas Sports Fishing Calendar—Sea Action Throughout the Year!
January and February
The best time to enjoy Striped Marlin sports fishing in the region is in the months of January and February. The weather conditions are perfect—with avg. temp being 74° & humidity at 68 percent. During this time, Striped Marlin is the primary catch in Cabo San Lucas. However, anglers can also spot Yellow Fin Tuna offshore, near the Sea of Cortez. And you can also catch Pompano, Trigger Fish and Snapper particularly in February—as these species are found in abundance in this month.
March and April
Though Marlin fishing comes to a break or usually slows down at this time of the year, anglers still enjoy coming to Cabo San Lucas to fish for other game fish like Grouper, large Sea Bass, and Cabrilla. During these months, you can experience great inshore fishing action as fish like Yellow Tail, Amber Jacks and Spanish Mackerel, show up.
May, June and July
The weather in Cabo San Lucas heats up from May to July but this doesn't stop sports fishing fans from bending their rods. If you're heading to the area in May, then get ready to fight hard with Roosterfish. May marks the kick off season for inshore Roosterfish sports fishing while Blue Marlin and Wahoo dominate the sea in June and July.
August, September and October
Cabo San Lucas sports fishing from August to October is truly awesome. From Sailfish bite to 300 pound plus Blue & Black Marlin to 300 pound plus Yellow Fin Tuna, it's the best time for pro anglers to show their fishing skills as this is the big fish season. The sea is highly-concentrated with big and agile fish that are not so easy to catch, unless you're a pro!
November and December
November and December is the right time to hit the sea for new anglers and sports fishing fans. Both inshore and offshore fishing is fun and enjoyable during these months as the sea is concentrated with tons of Sailfish, Tuna, Dorado, Wahoo and Spanish mackerel.
Cabo San Lucas Sports Fishing – Best Tips for Catching Marlin Game Fish
If you're a beginner at game fishing and are heading out to Cabo San Lucas this season to indulge in a deep sea Marlin sports fishing adventure, then this fishing report is a good read for you as we share with you some of the best tips to catch Marlin.
Known as 'Apex Predators', Marlin are super hard to bait and catch especially for those who are fairly new to sports fishing typically because they're huge and athletic. And when hooked, the fish can display a jaw-dropping acrobatic showdown with aerial maneuvers and in lightning speed—giving anglers the fight of their lives. Therefore, it's very important that you are geared up well and know the best game fishing techniques so that you are fully ready for the sea action.
Cabo San Lucas Sports Fishing-Best Marlin Fishing Techniques
Patience is Key
When fishing for Marlin in Cabo San Lucas, you need to be patient. Remember, it is quite common to spend hours at the sea just trolling for Marlin and waiting for a catch. For anxious anglers, this can be frustrating but it is important to understand that sport fishing is a game of patience. So, keep calm! Try to use these fishless hours for better planning.
Troll with the Water
Marlins love to cruise the ocean swells. It is much easier for them to swim in the direction of the sea as it takes minimal energy. So, when you cast a bait to lure Marlins, make sure to troll it in the same direction as the sea, instead of trolling it against the waters. Trolling in the same direction will help the fish move with more agility and chase the bait-making it easy for you to catch.
Use Rigged Natural Baits—Dead or Alive
Though artificial lures are also good baits but to improve your Marlin catching success rate, it is best to use rigged natural baits like Mackerel, Barracuda, Horse Ballyhoo, Bonito and Mullet. You can rig baits to swim like they are alive or rig them to skip along the water surface so that they look wounded and stunned. Both bait rigging techniques are great for catching your prey.
Bait & Switch
This is another smart technique to catch these agile fish species. This technique involves trolling with 3 to 4 hook-less plastic lures. Once a Marlin gets attracted, the line is drawn which helps bring the fish closer to the angler. This is when the angler distracts the fish, using another outfit to gauge the fish size which is extremely important as this helps the angler select the right tackle to catch the prey.
Cabo San Lucas Sport Fishing
The Ultimate Sports Fishing Grounds in Cabo San Lucas for a Perfect Fishing Experience
Envied worldwide for world-class sports fishing and reckoned as the ultimate place to cast bait, Cabo San Lucas provides both beginner & pro anglers with the perfect fishing experience.
The Ultimate Sports Fishing Grounds in Cabo San Lucas for a Perfect Fishing Experience
Envied worldwide for world-class sports fishing and reckoned as the ultimate place to cast bait, Cabo San Lucas provides both beginner & pro anglers with the perfect fishing experience that truly no other fishing destination can rival!
However, to experience the thrill and excitement that deep sea Cabo San Lucas sport fishing offers to anglers, it's important that you know about the best fishing grounds in and around the area. And this is what we'll share with you in this fishing report, so that when you go to Cabo San Lucas, you don't miss the opportunity to catch the Striped Marlin, the best game fish in the sea, or miss your shot at finding big schools of Yellow Fin Tuna.
Hot Spots for Sports Fishing in Cabo San Lucas
Finger Bank
Known as the quintessential billfish fishery, the Finger Bank is the perfect fishing ground for anglers looking for a sea adventure. Situated approximately 50 miles upward from the marina of Cabo San Lucas, this is the place where you can find and bait for predatory fish. During winters and early spring, the place is surrounded by hoards of Stripped Marlin.
Tinaje Trough
Located on the Pacific Side, Tinaje Trough is one of the best fishing grounds in Cabo San Lucas. It is a deep gorge, forming a pathway of currents, underwater. It is nestled between The Golden Gate Bank and San Jaime Bank where the warm currents swiftly carry large amounts of Yellow Fin Tuna, Blue Marlin and Skipjack Tuna. Blue Marlin is the most favorite and exciting catch in the sea for anglers here, typically because of its aerial acrobatics and unbelievable agility. If you choose this ground for fishing, make sure that you come equipped and are ready for a chase to catch your prey.
Gordo Banks
This is one of the most popular fishing spots on the eastern coast of Cabo San Lucas, and in the Sea of Cortez. It is located 5 miles away from the coastline of Baja. This fishing spot is divided into the Outer and Inner Gordo Banks. The Outer division is where all the sea action happens. From April to November, the Outer Gordo Banks is brimming with Yellowtail, Wahoo, Grouper, and Pargo and profuse with Sailfish, Tuna and Mahi Mahi. And in case you visit this place off-season, even then you can enjoy great fishing here.
1150 Bank
If you're dead-set that you want to come back home with an epic Cabo San Lucas sports fishing story, then 1150 Bank is a must visit fishing ground. Lying approximately 20 to 25 miles off shore, 1150 Bank sports a fantastic combination of marine features of the Pacific and the Sea of Cortez. This is a much celebrated location for catching Marlin & Tuna fish, and what adds to the excitement is that the fishing spot is frequented by a variety of Shark species, particularly the shortfin Mako Shark, also known as the Blue Pointer.
So, what are you waiting for? Gear up for some memorable deep sea sports fishing action in Cabo San Lucas! Make sure to visit these hot spots to experience the real thrill of sports fishing.
Cabo fishing report from January 13th to January 25th.
Our Ocean waters got cold after the cold front came in from the North about a week and a half ago. This made all big game fish go farther south and away from our local banks.
So for the last 2 weeks we have been doing really good with small game fish close to shore such as spanish mackerel, rooster fish and what we call toro fish. We have also occasionally ran into small yellowfin tunas and striped marlin.
Cabo weekly fishing report from January 5th to January 13th.
We started this week with a big 310lb yellowfin tuna that we caught out of finger banks after we let go 6 striped marlin onboard our 35ft Cabo flybridge with captain Arturo.
After that day, we went out to the finger banks again and even though we found plenty of bait on top of the water, we did not see all the action that we were getting for weeks. Waters were really green, birds and marlins were no longer there, so we went out looking for dolphins, once we found them we caught a few yellowfin tunas around 10 to 15 lbs. One of them had the smallest dorado I have ever seen in its mouth. On our way back we found a few marlins surfing the waves so we caught and release two of them. After all and even though it wasn't the day we were hoping for, it still was a great fishing day.
During the week, we release quite a few striped marlins, caught plenty of 10 to 15 lb. yellowfin tunas and occasionally small dorados.
Cabo fishing report from December 23rd to January 5th.
First of all, we would like to thank every one of our followers and clients that were with us all 2016.
For the past two weeks we have been catching and releasing plenty of striped marling. Big schools of mackerel have made their way into the Pacific banks attracting tons of striped marlin allowing us to catch and release a few per day. Other than that, we are still catching some smaller dorados and wahoos in small numbers. Also out in Gordo Banks we have been doing good with small football size yellowfin tunas.
We are still doing great out on Finger banks. Just before arriving to finger banks, you can see all the birds every were just going crazy feeding off of the chum left behind by Marlin and Yellowfin feeding from below. As soon as you get close to the bait ball you can see big yellowfin tunas bridging out of the water eating the sardine and the marlins all lit up circulating the bait balls. We have been trying to catch one of the big yellowfin tunas bridging out of the water but the marlins kept eating our bait lol. Maybe next time!
Cabo sport fishing report from December 13th to December 23rd.
This week we took a few clients out fishing on our 30 footers and our captains manage to catch and release a few striped marlin by bottom fishing around the light house, also our captain Felipe took clients fishing on our panga and caught a few rooster fish along shore.
We only had one group of repeat clients that were willing to pay the price and go the distance to finger banks, Witch it was a great fishing day since we managed to release 20 marlins out of 24 that we hooked, At one point we had 4 marlins on the line at the same time with hundreds of friget birds around us, marlins every were chasing bait balls and clients screaming O my God look at my marlin jumping out of the water !!!
Cabo sport fishing report from December 6th to December 13th 2016.
Being that we only have had two customers willing to go the distance (Finger Banks) we release 28 striped marlin, 12 on the first trip and 15 on the second. Upon arriving to finger banks, we were so happy and exited as we were able to witness thousands of frigate birds feeding from chum left behind as striped marlin and tunas fed from below. I strongly believe that any real hardcore Angler such as us would have been just as excitingly happy as we were, to witness how blessed and wealthy our Ocean is down here in Cabo San Lucas. We also found a few marlins within 5-10 miles off of shore along with dorados, but even then, nothing compares to the massive bait balls we found out in the finger banks witch is about 50 miles out from Cabo on the pacific side. Yet another great week of fishing in Cabo San Lucas. Tune in next week for our updated fishing report.
Cabo sport fishing report from December 1st to December 6th 2016.
Winds have been a bit high this week but fish are still biting. We have been consistently catching Dorado around the light house early in the morning along with a few good size Wahoo. In addition, Stripped Marlin have been biting a bit later during the day and into the afternoon allowing us to catch and released several of them every day.
San Jose del Cabo has been significantly different than San Lucas. We have been catching yellowfin tunas from 10 to 15 pounds around Gordo Banks and a couple of cows have been reported as well.
Over all its been a great week for sportfishing in the Los Cabos area with plenty of happy anglers that got to fish with our great Captains on board our Tag Cabo Sportfishing fleet.
Cabo fishing report from November 26th to December 1st 2016.
It's that time of the year again! Heading out early in the morning in search for stripped Marlin tails skimming on top of the water. Marlins surfing the waves in search for bait. We're ready to hook up! Waiting patiently and switching up our strategy. As soon as we see the marlin tail fin sticking out of the water, we run to the bow of the boat casting a live bait to the stripper over and over again until it eats allowing our angler to begin his big game fight at an estimated 30 to 45 minutes. After 45mins of back and forth fighting, we allow the marlin to get as close as possible to the boat (exhausted by this time!) allowing us to handle it with care, unhook and release it.
This week has been great, we have been catching and releasing plenty of striped marlin, filling up our fish bags with dorados within the same area, about 10 to 15 mile from Cabo. I strongly recommend that if you would like to go target this species, make sure you go out fishing all day witch is at least 8 hours, that should give your Captain enough time to get to the fishing grounds and work on getting you hooked up with that so anticipated trophy fish you have been dreaming of.
We have also been doing great close to shore with rooster fish, spanish mackerel, trigger fish and some needle fish as well, So if you dont really want to go out for a full day of fishing, I strongly recommend to get on a 30 footer or a super panga and do a close to shore fishing trip to have better chance of some action.