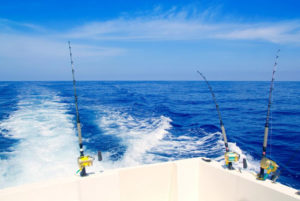 Indeed, sport fishing is fun but to enjoy it to the fullest, you need to have the right fishing arsenal. Speaking of fishing equipment, your gear is incomplete without a fishing reel. Since there is a large variety of fishing reels available in the market, we decided to write a report on the most common and widely used types of reels to help you develop a good understanding about them. Now, you can make an informed purchase. Read on to know about the different types of fishing reels in store:
Type 1—Spincast
If you're a beginner or a sports fishing fanatic, a Spincast reel may be a good choice for you primarily because it is the easiest fishing reel to use. The Spincast reel operates with the push of a button and a simple flick of the wrist, allowing you to put your lure in the water and get ready to catch some fish.
Some drawbacks of using this reel are that the drag of this reel is less than sufficient or adequate. And because of that, it sometimes becomes difficult for novice anglers to retrieve lures from the sea with finesse. Also, it breaks quite easily. In other words, if you're looking for durability, this reel is not a great bet. So, we wouldn't advice anglers looking for serious sports fishing to invest in this fishing reel.
Type 2—Spinning Reel
Also known as the open-faced reel, the spinning fishing reel is both durable and solid in construction as compared to the Spincast reel. It gives users more options for the lines to use. The spinning mechanism of this reel makes it easier for users to switch between right hand and left hand retrieve. And it is also easy to cast with this reel. All you need to do is flip the bail over and hold it with your index-finger and then release as you snap the fishing reel to cast. The Spinning fishing reel is a good choice for tackling and fishing for Mahi Mahi and Striped Bass.
Type 3—Baitcasting Reel
Featuring rotating spools and excellent drag systems, this reel is perfect for sports fishing pros. Commonly known as the conventional reel, the Baitcasting reel is best for targeting strong and big game fish like the Stripped Marlin and Big Yellow Fin Tuna. The reel is durable, and offers excellent cast accuracy. It is designed to handle heavy fish with strong forms of lines.
Type 4—Trolling Reel
Though this fishing reel is a lot similar to the Baitcasting fishing reel, it is not meant for casting. Instead, as the name suggests, this fishing reel is designed primarily for trolling. It has a more circular or rounded profile that is designed to troll big sports fish like Marlin and Large Trouts.