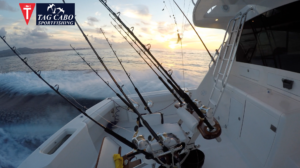 Cabo fishing report August 16th 2017.
Fishing in Cabo keeps getting better and better! Just when we thought it could't get any better, we start catching fish in all of our local bancks.
Big game fish are even closer to shore. We have been fishing onboard smaller 20ft Pangas and 32ft fishing vessels with action right in front of the light house where we have been catching a lot of dorados and small yellowfin tunas every day.
We are also catching Stripped marlin, darado and small yellowfin tunas out of the golden gate bank. We recommend bigger boats to go out there since thats out on the pacific side and the wind has been picking up during the day.
Now, we have also been catching some big black and blue marlin 7 miles straight out from the famous arch. We can take you out their on our 32 footers unless you would like to be super comfortable, we always have bigger yachts to accommodate larger groups or anglers with expensive taste.
If you are an experienced Angler looking to get into one of the best sport fishing fights, then we highly recommend getting you all set up and taking you out into the gordo banks. This is where we have been catching many yellowfin tunas and they are all between 80 to 120 pounds, and even a few over 200 pounds here and there.
The weather is great as well, temperature in between low 80s and low 90s, and humidity is not as bad as it was a few weeks ago. The wind has been cooperating with us at 8kt in the Sea of Cortez and 11kt in on the Pacific side.
Here is a video of one of our most resent fishing trips.. Tag Cabo sportfishing channel