Cabo San Lucas fishing report October 13/2017
With the greatest angling competitions practically around the bend,
Tag Cabo Sportfishing group, feels super prepared since we have been angling each and every day of the year with the goal of rehearsing and adapting new techniques to win competitions.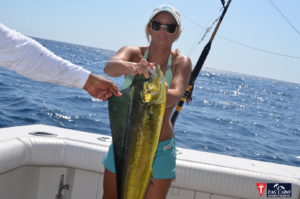 Throughout the previous two weeks the climate have enhance a considerable measure.
The water temperature is around the 80s appropriate by the celebrated curve and that draws in the natural pecking order ideal close to the shore line.
We have been getting a lot of dorados from 10 to 25 pounds and numerous yellowfin tunas in the middle of 10 to 35 pounds appropriate by the light house.
Out by the golden gate bank we have gotten numerous huge blue marlins and a couple of more than 200 pound yellowfin tunas.
Out in punta gorda bank we have been doing awesome with yellowfin tunas, dorados, wahoo and a couple of blue marlins also.
Over all we are quite recently favor to have such a rich seas with a lot of big game fish as close as 5 mile of from shore.
We strongly recommend Anglers to come over to fish right after the tournaments, since fishing is at its best right now.
We have from a super panga for two Anglers to a super 90ft yacht were we can accommodate 15 anglers with no problem at all.
Follow us on our facebook fan page or contact us to make a proper reservation.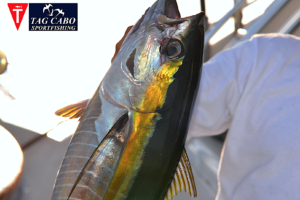 Make sur you subscribe to our Tag Cabo Sportfishing you tube channel to watch our videos.