Cabo fishing report September 29th 2017
Well, September has definitely been our slowest month of the year with hurricanes, and the awful climate that follows. This September it began somewhat under the climate with the cyclone, Norma that did a touch of harm to our growing town, enough that we had our port closed for a couple of days. A week after Norma, we had another hurricane that approached our shore. This caused our
port to close once more for safety concerns.
Although very limited fishing time is expected in the month of September, we took full advantage of days when weather conditions permitted us to head out into the ocean. The first three days we were able to head out were somewhat moderate, however we were able to bring onboard a couple good sized yellowfin tunas.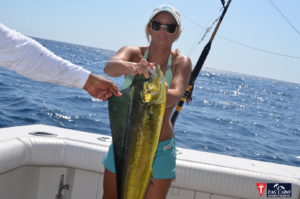 This proceed for a couple of days, however as we drew near to the end of month, we began getting a lot of striped marlin, dorado, yellowfin tunas, wahoos, and some enormous blue and black marlins.
After all that not-so-good weather, we finally have great weather and are ready to head back into the water. Our temperature is in the 80s (°F) in the after noon and 70s (°F) at night. The wind in the Pacific side is around 8 kts and 4kts in the Sea of Cortez. Water temperature in the Pacific is about 80 to 84 °F and on the Sea of Cortez is about 85. This goes to show that with the wind being as nice as it is, and the water as hot as it is close to shore, this attracts a lot of big game fish closer to shore so our success rate goes up tremendously allowing us to reach active fishing grounds a lot faster and actively fish for a longer period time.