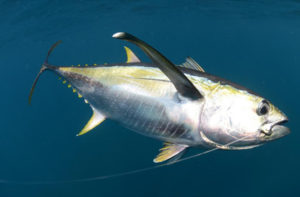 Do you want to experience the adrenaline rushing Cabo San Lucas sports fishing action that we've been raving about all this time, then now is definitely a good time! Though Billfish bite comes to a break in Cabo San Lucas during March, the conditions for catching other game fish bite like Big Yellow Fin Tuna and Skip Jacks are ideal. We say this because we were at the sea this week and wow, we had the best time fishing.
Generally, during this time of the year in Cabo San Lucas, temperature on average is 80° while humidity is 68 percent and rainfall, an average of 0.00 inches so the conditions at the sea are practically perfect for enjoying sports fishing. Nearly perfect but not perfect because anglers sometimes have to battle winds at this time, just like we did, and cold water also pours from the north but this doesn't take anything away from the fun and adventure that Cabo San Lucas has to offer.
During March, especially early this month, the inshore comprises of a very good big Yellow Fin Tuna bite. And we literally experienced it when we hit the shores this week. We went sports fishing with Captain Felipe Mayo Justo on his luxurious yacht charter, Panga.
As always, we went well-equipped with rigged baits, plastic lures and fishing rods much needed to troll with the waters to attract and catch the prey. At the first day of the week, we managed to hook plenty of game fish-4 Yellow Fin Tunas and 8 Skip Jacks to be precise but unfortunately, we could only catch one Tuna primarily because of the hungry sea lion that just couldn't stop munching on our Skip Jacks and Yellow Fin Tunas. That Sea Lion was sure hungry! But overall, it was a great day in the waters. However, later the same week, we did manage to hook and catch Yellow Fin Tunas and Skip Jacks in front of the arch-luckily enough the hungry Sea Lion was nowhere in sight, because if it were, then you would know what would have happened, right!