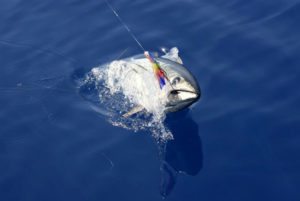 Catching a big game fish like a 300 pound Yellow Fin Tuna is every angler's dream. If you dream about it too and are heading to Cabo San Lucas this month for sports fishing, then let's just say you're only a catch away from making your dream into a reality. As mentioned in our previous fishing report, big Yellow Fin Tuna is found in abundance during this time of the season, so you'll have plenty of opportunities to hook and catch your target.
To catch your prey successfully, it is important that you know everything about them and are well prepared. And this is exactly what we'll teach you in today's report. So, continue reading to prepare yourself to bait, hook and catch your dream game fish—the big Yellow Fin Tuna.
Get Ready for the Ultimate Fishing Battle in Cabo San Lucas
The big Yellow Fin Tuna is a marine beauty and incredibly delicious to eat. We love to eat it fresh with wasabi and soy sauce on the yacht. It's absolutely yum. However, to catch this fish, you need to be well-prepared when you go to sea predominantly because they are speedy, love to get chased, and it's close to impossible to tackle the large ones.
Scale up Your Tackle Wisely
It's much easier to catch small Yellow Fin Tunas in the 10 to 15 lb range using a light tackle but to catch the big ones, you will need to scale up your tackle as you will require heavy gear and plenty of 100 lb braided line. And make sure to carry rods, hooks, gaffs, naps, swivels, guides, leaders, landing nets and reels.
Lures to Carry
For catching Yellow Fin, we'd suggest anglers to roll with:
Cedar or ranger type plugs
Tuna feathers
And plastic-skirted trolling lures
Techniques to Use
As Yellow Fin Tunas mostly feed near the sea surface, it is advisable to use top water techniques to bait and lure them in your trap. Since top water techniques are considered effective in low light conditions and this fish has very good eyesight, to increase your catch success rate, we'd advise you to use a fluorocarbon leader. This will help reduce visibility and also has abrasion resistance.
Also, whether you're fishing for Tuna with bait or lures, try combining it with chum. It is effective on all Tunas and the Yellow Fin Tuna is definitely no exception. Try chum with either live baits or cut baits into chunks. This will help you to keep Yellow Fin around your yacht, making it much easier for you to catch one.